Have you ever been excited about hosting that perfect backyard barbecue party or finding the ultimate grilling gift for a loved one, only to be stumped by the sea of choices in the grill market?
If you've been circling the Monument Grills vs Weber debate, you've landed in the right place. This article dives deep into the specifics of these two popular brands, offering a comprehensive comparison to make your grill selection process smoother.
I've packed it with insights on their features, build quality, performance, and more, using popular models as a comparison.
Stick around, and let's explore these grilling brands together, helping you ignite your decision-making.
Comparing Popular Models
Choosing a grill is like picking a companion for your adventures. You need to know what they're bringing to the table! And I'm here to help you do just that.
I've lined up some popular Monument Grills and Weber models, creating a comparative table that measures their key features. The table takes into account the number of burners, grill size, BTU ratings, and other extra features.
For example, Weber's Spirit II E-210, a 2-burner model, competes against Monument's Mesa 200 in terms of price, grill size, and heat capacity.
On the other end of the spectrum, for those big family cookouts, Weber's 6-burner Summit E-670 goes head-to-head with Monument's Denali 605, providing powerful heat capacity and generous grill size.
I'll delve deeper into the specifics of one of these models in the following section, but for now, this table serves as your quick reference guide in the Monument vs Weber grills showdown.
Gas Grill Model
Amazon Ranking
Main Burners
Side Burners
BTU
Cooking Space
(sq. in.)
App
Window Lid
Knob Light
Price
($)
Weber Go-Anywhere Portable
Top 50
1
0
6,500
160
N
N
N
8x
Monument G22 Tabletop
2
0
15,000
200
N
Y
N
2xx
Weber Traveler
Top 50
1
0
13,000
320
N
N
N
4xx
Monument 13742 Tabletop
Top 100
2
0
15,000
207
N
N
N
1xx
Weber Q1000 Portable
Top 50
1
0
8,500
189
N
N
N
2xx
Weber Spirit E-210
Top 100
2
0
26,500
450
N
N
N
4xx
Monument Mesa 200
2
0
24,000
473
N
Y
Y
2xx
Weber Spirit II E-310
Top 50
3
0
32,000
529
N
N
N
5xx
Monument Mesa 300
3
0
36,000
542
N
Y
Y
3xx
Weber GENESIS EPX-335
3
1
39,000
787
Y
N
Y
1,xxx
Weber SPIRIT EX-325s
3
0
32,000
529
Y
N
N
8xx
Monument Mesa 400M
Top 50
4
1
52,000
542
N
Y
Y
4xx
Weber GENESIS E-435
4
1
60,000
994
N
N
N
1,xxx
Monument Mesa 400
4
1
60,000
690
N
Y
Y
4xx
Weber GENESIS S-435
4
1
60,000
994
N
N
N
1,xxx
Monument Denali 405
4
1
60,000
725
Y
Y
Y
6xx
Weber GENESIS SPX-435
4
1
60,000
994
Y
Y
Y
1,xxx
Monument 35633
4
2
72,000
723
N
Y
Y
4xx
Weber Summit S-470
4
2
71,400
580
N
N
Y
2,xxx
Monument Denali 605
6
1
78,000
895
Y
Y
Y
9xx
Weber Summit S-670
6
2
82,600
769
N
N
Y
3,xxx
Monument 77352
6
1
90,000
900
N
N
Y
7xx
While Weber boasts a diverse and wide-ranging product line, Monument Grills offer a more limited selection. If you're finding Weber's gas grill codes a tad confusing, lets break it down to make it more comprehensible.
In Weber's nomenclature:
"E" stands for Enamel
"S" represents Stainless
"SP" is short for Special edition
"SI" indicates a Smoker Attachment Edition
"X" designates a Smart grill
"325" means 3 burners without a side burner
"335" signifies 3 burners with a side burner
"435" equals 4 burners with a side burner
To give you a clearer picture, "E-335" refers to a model with an enamel color, 3 burners, and a side burner, while "S-435" denotes a stainless steel model with 4 burners and a side burner. Hope this clears the maze!
To keep up with the latest models, visit the Weber and Monument Grills websites.
Monument Grills Overview: Igniting Your Passion for Grilling
Hailing from Atlanta, Georgia, Monument Grills is a fairly recent entrant in the grill market, established in 2016. Despite its relatively young age, the company is backed by a team with over two decades of grill design and manufacturing expertise.
Monument Grills has already carved a niche for itself by delivering high-performing, reliable, and stylish gas grills at a fantastic value.
The brand's primary mission is to ignite your passion for grilling. And they're doing this through a compelling range of products. From simple stainless and black grills to smart DENALI gas grills supporting natural and propane gas, they offer something for every grilling enthusiast.
With features like porcelain-coated cast-iron grates for even cooking, built-in thermometers, and Clearview lids, their grills are designed for a seamless grilling experience.
Their innovative approach and affordable prices have garnered positive customer feedback, with one of their models even making it to the top 50 best-selling gas grills on Amazon. Their gas grill price ranges from $250 to $900.
Weber Overview: A Tradition of Quality and Innovation
Weber grills, a legacy brand with roots dating back to 1952, are a household name in the grill market. Founded by George Stephen in Illinois, Weber has consistently delivered innovative grills that have revolutionized outdoor cooking experiences.
At the heart of Weber is a simple belief: there's nothing better than a delicious meal outdoors with loved ones. This ethos is reflected in their wide range of products.
From the Original Kettle Charcoal Grill, Summit Series, and Q Series to the Smokey Joe and Go-Anywhere grill, Weber grills cater to various outdoor cooking needs and budgets.
Weber grills are well-loved for their American-made quality, unique features like precision heat control and the Flavorizer Bars system, and commendable performance.
Their grill's quality is vouched for by their enduring popularity, with six of their products featuring in the top 50 best-selling gas grills on Amazon. Their gas grill prices range from $89 (a portable grill) to $4000.
In-Depth Comparison: Weber Genesis S-435 vs Monument Grills Mesa 400
To facilitate a detailed comparison of the two brands, I've chosen two representative products – the Weber GENESIS S-435 and the Monument Grills Mesa 400.
These grills are not only top sellers on major e-commerce platforms, but they also encapsulate the essence of their respective brands.
The GENESIS S-435 and Mesa 400 are each brand's medium-level options in the 4-burner gas grill segment.
The S-435 is a star player in Weber's famous Genesis line, renowned for its spacious cooking area and precise controls. In contrast, the Mesa 400 is Monument Grill's compact yet mighty grilling solution.
These two grills truly demonstrate why their respective brands are so well-regarded among grilling enthusiasts.
1. Design and Build Quality: Striking a Balance Between Aesthetics and Durability
Both grills pack a punch when it comes to design and build quality. The GENESIS S-435 oozes sleek modernity and long-lasting durability with its stainless steel design. Weighing in at a solid 220 lbs makes it a substantial and reliable grilling companion.
Conversely, the Mesa 400, considerably lighter at 90 lbs, brings portability into the mix. Its design features stainless steel and silver powder-coated side, back, and base panels, hitting the sweet spot between style and sturdiness.
However, the lightweight of the Messa 400 reflects the thinness of its materials. The grill is clearly not as sturdy as the S-435.
Even so, a distinctive trait of the Mesa 400 is its lid viewing window, a detail missing from the GENESIS S-435. The viewing window is exciting, letting you visually monitor your food as it grills.
Imagine savoring the sight of sizzling burgers or steaks slowly reaching the perfect char without lifting the lid, preserving that precious heat.
It adds a certain thrill to the grilling experience, not to mention a helpful way to prevent any unfortunate burn mishaps. However, every silver lining has a cloud.
The viewing window, despite its appeal, could pose a potential downside. Over time, grime, grease, and smoke can accumulate on the window, obstructing the view.
This means you'll need to add window cleaning to your grill maintenance routine to keep that exciting visual access clear. But it's just a small trade-off for the viewing window's unique experience.
2. Comparing Sizes – Space for the Grill
The Weber GENESIS S-435, standing at 68.5″ W x 27″ D x 48.5″ H, certainly has a larger footprint than the Mesa 400, which measures 54.1″ W x 19″ D x 45.7″ H.
The Weber's imposing size conveys a certain grandeur, fitting for extensive backyard barbecues. On the other hand, the Mesa 400's smaller dimensions make it a versatile option, particularly in tighter spaces, without sacrificing substantial grilling capabilities.
3. Cooking Space – Room for the Feast
Cooking space is another essential aspect. The GENESIS S-435 impressively offers a total of 994 sq. in. of grilling space (646 sq. in. primary and 348 sq. in. top grate), able to hold around 30 burgers. Imagine serving a party of 15-20 people, all from one grill!
Comparatively, the Mesa 400 isn't far behind with a total cooking space of 690 sq. in. (480 sq. in. primary and 210 sq. in. warming rack).
It has enough room to grill 18 burgers or 2 racks of ribs. It's a more compact powerhouse, ideal for more intimate gatherings of 8-10 people.
4. Burners and BTU – Power and Precision
When it comes to burners and BTUs, both grills pack a punch. Each offers 4 main burners and a side burner, summing up to 60,000 BTU.
A distinguishing feature of the GENESIS S-435 is its extra sear zone burner, a dream for those who crave that perfect char on their meat.
The Mesa 400, while lacking a separate sear zone, compensates by making its side burner capable of reaching searing temperatures. Besides, its 4 burners at high heat settings can still reach an impressive 700°F in a few minutes.
For a separate sear zone, you can opt for the 35633 model, which also has a side burner. However, this model is more expensive than the Mesa 400 by about $100.
5. Grill Grate Details -The Foundation of Flavor
Dive into the heart of any grill, and you'll find the cooking grates. It's here where the Weber GENESIS S-435 and the Monument Grills Mesa 400 differ most.
The S-435 comes equipped with the Weber Crafted 7-mm thick diameter stainless steel cooking grates. These durable, easy-to-clean grates heat up evenly, always providing consistent cooking results.
Though some of Weber's premium models, like the SP-E-325S and SP-E-335, feature thicker 9-mm grates ideal for searing, you'll find the 7-mm grates in the S-435 more than enough for typical grilling tasks.
Another thing that makes the S-435 spices things up. The grill comes with a unique Weber Crafted frame kit, offering a world of grilling versatility.
This kit lets you replace the right-side cooking grate with a frame that accommodates a variety of grillware. The possibilities are almost endless, from griddle to pizza stone, sear grate to rotisserie skewer set.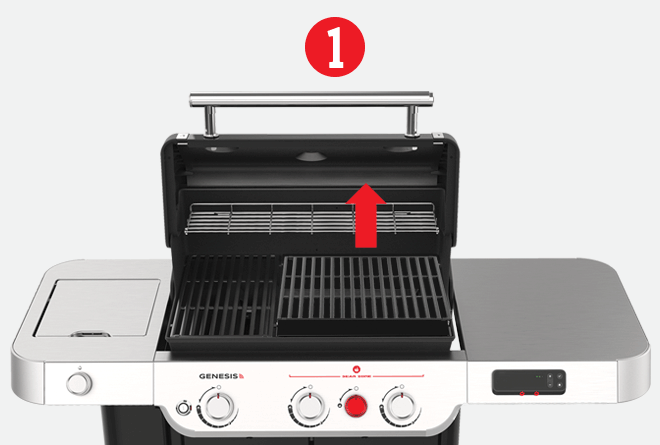 And while these handy accessories are sold separately, the frame kit itself comes with the S-435, saving you the previous cost of around $60 (models before 2022 don't have this kit). So whether you're craving pancakes for breakfast or a stone-baked pizza for dinner, the S-435 has you covered!
On the other hand, the Mesa 400 comes fitted with porcelain cast-iron cooking grates. Despite requiring a bit more elbow grease during cleaning, these grates distribute heat evenly, ensuring your food cooks just right every time.
You can still buy accessories like a griddle, or pizza stone… to use with the Monument Mesa 400, but it won't be as convenient as with the S-435 and Weber Crafted frame kit.
6. Features and Functionalities
Every grill enthusiast knows the features and functionalities that make grilling a breeze. Here's a closer look at what Monument and Weber equip their grills.
Practical Features in the GENESIS S-435
The GENESIS S-435 is a showstopper with a bundle of practical features. Sporting PureBlu burners, it ensures heat is consistent and precise, perfect for those who love precision in their cooking.
While the S-435 doesn't come equipped with the Nightvision Led grill lighting or the Weber Connect Smart grilling technology like the pricier models such as SPX-435, it does have a winning hand with the grill locker.
This handy feature answers all your storage needs, easily fitting your oversized grilling tools and Weber Crafted grillware.
Never worry about running out of propane mid-grill, as the S-435 has a gas-tank scale. It's a handy tool that tells you how much propane is left, ensuring your grilling session goes uninterrupted.
Functional Simplicity in the Mesa 400
The Mesa 400 may not have the bells and whistles of its Weber counterpart, but it holds its own in the functionality department.
Its electronic ignition means no fumbling around, and the LED control knobs ensure grilling goes on in the dark.
However, it's not all rosy. Unlike the S-435, the Mesa 400 lacks a gas-tank scale, meaning you must keep an eye on your propane supply. You can overcome this problem simply by equipping it with a gauge level indicator.
Also, mastering the control knobs requires some practice as you have to turn the gas on and press the igniter for each one.
7. Ease of Use and Maintenance
Both grills are designed with convenience in mind. The S-435 has an improved grease management system and a removable grease tray with a removable catch pan for easy cleanup. It also comes with a 12-year warranty on the cook box and lid assembly, providing long-term peace of mind.
Similarly, the Monument Grills Mesa 400 provides rear access to the grease tray and removable catch pan, making cleaning easy. It also offers an 8-year burner warranty, but no warranty information is available for other parts.
8. Price and Value for Money
Regarding pricing, the Weber GENESIS S-435 is at the higher end of the scale. But given its extensive features, robust build, and brand reputation, it offers value for those seeking a premium grill experience.
In contrast, the Mesa 400 is more budget-friendly, providing a solid grilling experience at a lower price point. While it may not have all the bells and whistles of the S-435, it does represent excellent value for money.
9. Final Verdict – Monument Grills Mesa 400 or Weber GENESIS S-435
With the smoke cleared and the grates cooled, it's time to make our final call on these two grills – the Monument Grills 4-Burner Mesa 400 and the GENESIS S-435 Gas Grill.
Below, I've created a friendly table offering a clear, balanced comparison between the Monument and Weber gas grills. This comparison will look at key factors, including price, build quality, features, performance, and assembly. Let's have a peek into their pros and cons.
| Pros & Cons | Monument Mesa 400 | Weber Genesis S-435 |
| --- | --- | --- |
| Build Quality | Good stainless steel quality but reports of unit flimsiness and thin grills | Robust build, designed for efficient fuel usage and longevity |
| Features | LED-lit knobs and see-through lid. However, lacks a gas gauge | Large grilling area, sear zone, and compatibility with griddle and pizza stone accessories, but lacks lighted knobs |
| Performance | Superior heat control and accurate heat controls, but has a learning curve with knobs | Quick heating and excellent taste from flavorizer bars |
| Assembly | Fairly easy to assemble but takes a while | Easy to assemble |
| Price | More affordable, delivering excellent value for money | High price point but delivers premium quality |
| Latest Price | Check On Amazon Check On Weber | Check On Amazon Check On Monument |
Now to the heart of the matter – which one should you choose? It all comes down to what you value most in a grill.
The Monument Mesa 400 excels in affordability and superior heat control. It's a fantastic starter grill that offers reliable performance in a neat package, especially the clear-view lid.
However, it might not last as long as the Weber due to its build quality, and its quirks, like the smaller lid and the knob learning curve, may need some adjustment.
On the other hand, the Weber Genesis S-435 is undeniably a premium product. It offers robust build quality, a vast grilling area, and convenient features.
However, its higher price tag (almost 3 times the Mesa 400's price) and lack of features like lighted knobs might be a drawback for some.
Ultimately, the Monument Mesa 400 might be the grill for those who want a reliable, value-for-money grill with some nice-to-have features and are okay with a few minor inconveniences.
For grill enthusiasts who want to invest in a high-quality product that will stand the test of time, the Weber Genesis S-435 might be worth the splurge.
Final Thoughts on Monument Grills Vs Weber
In the sizzling world of grilling, there's no one-size-fits-all solution, and my head-to-head comparison of the Monument Mesa 400 and Weber Genesis S-435 certainly illuminates that fact.
While we've dissected their features, strengths, and drawbacks in depth, remember these are just two examples from the vast offerings of both brands.
Hopefully, this insight helps you make an informed choice, fitting precisely to your grilling aspirations. As wrapping up this grilling journey, share your own experiences and thoughts. After all, the joy of grilling is best shared. So, here's to your next great barbecue adventure. Grill on, friends!
Related Articles
I'm Jackson. I've been experimenting with different recipes and techniques to make the perfect plate of smoked or grilled meat for many years. I started this blog to share my experience with others who love grilling and smoking just as much as I do. Here you'll find recipes, tips, tricks, and everything you need to know about making mouth-watering grilled or smoked dishes.